Tag:
Cardio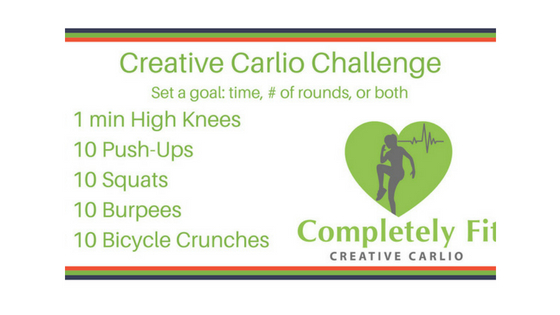 At Home Full Body Fat Burning Cardio Workout
Click Here to Access Workout Videos Now
I've got a great Full Body Fat Burning Creative Carlio Workout that I want to share with you!!!!
What's Creative Carlio you ask?
It's a cardio workout created by Carla (that's me!) designed to get your heart rate up and burn some calories in a creative way!
This workout can be done – ANYTIME &  ANYWHERE!
If you are unsure about how to preform any of the exercises in this circuit or you need a modified or low-impact version I have created FREE VIDEO DEMO!!!  Just fill out the form and click the access button below!
When you are ready to give this awesome Full Body Fat Burning Workout a try, simply:
Set a goal

either based on how long you want to workout, how many rounds you want to complete or push yourself to complete a certain number of rounds in a specified period of time!

Hit go on your timer/stopwatch app

Complete your workout

Then go to our Facebook page and let us know that you got it in. We would even love to see a pic!