Tag:
Workouts to Lose Weight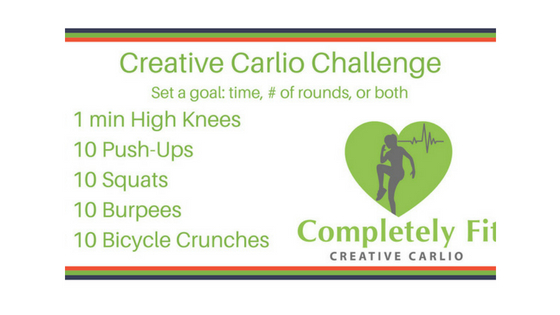 At Home Full Body Fat Burning Cardio Workout
Click Here to Access Workout Videos Now
I've got a great Full Body Fat Burning Creative Carlio Workout that I want to share with you!!!!
What's Creative Carlio you ask?
It's a cardio workout created by Carla (that's me!) designed to get your heart rate up and burn some calories in a creative way!
This workout can be done – ANYTIME & ANYWHERE!
If you are unsure about how to preform any of the exercises in this circuit or you need a modified or low-impact version I have created FREE VIDEO DEMO!!! Just fill out the form and click the access button below!
When you are ready to give this awesome Full Body Fat Burning Workout a try, simply:
Set a goal

either based on how long you want to workout, how many rounds you want to complete or push yourself to complete a certain number of rounds in a specified period of time!

Hit go on your timer/stopwatch app

Complete your workout

Then go to our Facebook page and let us know that you got it in. We would even love to see a pic!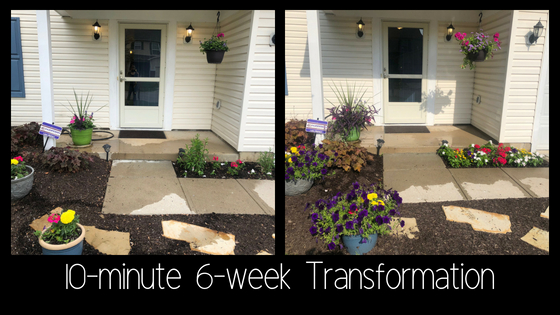 10 minutes a Day – 6 week Transformation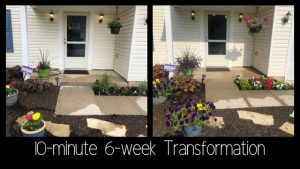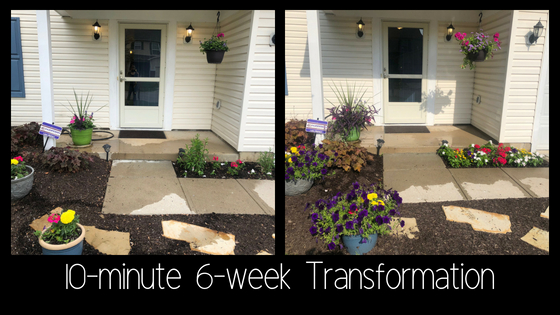 These photos were taken 6 weeks apart.  When I posted the first picture I had just planted my summer flowers for the year.  Since then I have spent about 10 minutes a day watering, feeding and caring for them and look at then now!  While they have not reached their peak yet, they have truly made a 6 week transformation.  They are becoming the landscape I had envisioned when I began.
Watching this 90 day transformation got me to thinking.
How much closer to our own body transformation would many of us be by simply devoting 10 minutes to nurturing the process?
Many times we feel that if we think we don't have a lot of time, or if the conditions aren't perfect that we can't do anything at all. This thinking is flawed.  We have to recognize that
Slow Progress is Still Progress!
Making progress doesn't require a lot of time, it only requires reasonable consistent action.
The couple weeks after planting these flowers a rabbit would come by DAILY and uproot several plants. I kept trying to replant, what was uprooted to start them over.  Every time my little rabbit friend would just come get those too.  Starting over was getting me nowhere, so I just decided to focus on the plants that were still there.  When I changed my focus to what was going right rather than worrying about what had been lost, those flowers began to expand and cover the bare spots.
Have you been envisioning what you would like your body to look like?

How you would like to feel?

Would you like to have more energy to do the things that are most important to you?
I challenge you to begin exercising  just 10 minutes a day for the next 6 weeks and watch and feel your life and fitness level begin to blossom and transform just as naturally as these flowers.
Need help getting started?  Need some accountability along the way?  I can help!!!
Start where you are.  Go at your own pace. No contracts, cancel anytime.
Sign-up now and you will get Immediate Access to a variety of at home workouts and gym workouts for every fitness level.
PLUS Get 50% off your first month just to give it a try!