Testimonials
I've Finally Found Success and I Won't Turn Back
After years of starting and stopping I finally found my why and I won't turn back. I have lost 133 pounds, but I'm not finished yet. The Completely Fit program is the only program that I have ever been able to stick with and not be miserable all the time. Carla's approach to exercise and nutrition cater to me, my health needs and the foods that I like (and don't like). She even takes into account that I really don't like to exercise and at times I even couldn't, yet she helped me make things work. I honestly could not and would not have done this without her.
I Feel More Confident and I Like How I look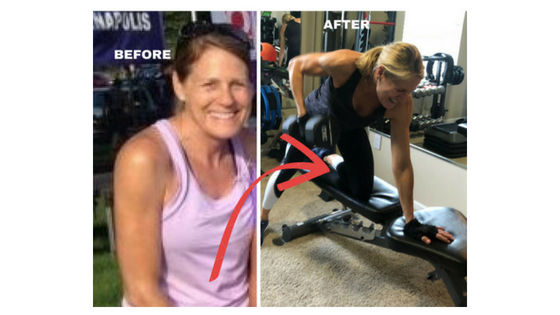 "Before I met Carla, even with as much as I worked out, I seemed to be stuck with the same results, never changing. I wasn't getting any real muscle gain and I felt my age setting in more and more. I didn't like how I looked, I felt tired all the time and just did not feel healthy. Carla was able to direct me on what I needed to change with my workouts and eating habits. I saw the dedication she had and as I listened to her and took her advice serious I started to see changes in my body and in my eating habits. She really listens, she studies me and sees how my body and my mind work so that she can design my workouts based on me. I do group training, personal training as well as online training through the Completely Fit app, which is great! Since working with Carla I feel more confident, I feel better health wise, I have more energy, I like how I look and I feel like I have a lot more balance in my life. Not just with my workouts and eating, but at home too."
I'm In-tune with what I Eat and How I Workout
"Completely Fit is the complete package. As a former marine, as I get older I find it harder to keep to a strict regimen...Carla's program at Completely Fit keeps me in-tune with what I eat and how I workout... It's a great environment. When we do the group exercises it's a lot of fun and when I'm with Carla by myself I'm definitely pushed. It's a great workout."
I'm Really Excited, My Cholesterol is Way Down!
"Since starting with Carla I'm working on changing and sticking to habits and I no longer set unrealistic expectations for myself or freak out about the scale. I want to be healthy mind, body and spirit. Knowing I've made some changes for the better has kept me from being so hard on myself because I'm making progress."

"I'm really excited, I got my labs back and my cholesterol is way down from a couple of months ago!"
I Lost 21lbs in 3 mths and Gained Confidence to Keep Going
"Before meeting Carla I wanted to be fit, but I lacked drive. I had trainers before but never gained the confidence to endure. After working with Carla I really started to appreciate my body and how important it is to be physically fit. She treats you like family, she makes you comfortable and pushes you to keep going. I lost a total of 21 pounds in 3 months and now I'm excited to see all my new muscle cuts and gains. Make the decision to keep your temple healthy by choosing Completely Fit."
I Increased Lean Muscle and Decreased Belly Fat
"Just a short note to say thanks Carla! I had a body scan done to check my progress and my body fat % is down significantly, but I'm most excited about the increase of lean muscle especially in my BFF "Belly Full of Fun" otherwise known as my abs. Thanks Carla!"
Carla's Style & Approach Keeps Me Coming Back
"No matter how difficult life is or what life changes or whatever is going on in my life I can always come here and it's a safe place...Even though the struggle is there, Carla helps me fight through it. There's no stress and no pressure. She makes you do what you need to do, there's no holding back there, but it's just that I don't feel pressured...She keeps me within my boundaries, pushes me when I need to be pushed, but that's what keeps me coming back to her."
I Now Realize Being Fit is About Being Happy and Healthy
"I came to Carla 3 years ago...She has the ability to really understand me and she helped me realize that being fit is not just about what's on the scale or how I look, but being happy with myself and accepting myself and being healthy...She truly gets people, any kind of person, big, small, she's the right one."
I Had Tried Everything, Carla Wants You Completely Whole
"I've had doctors who gave me prescriptions. I've had done Weight Watchers. I've had other personal trainers. Carla doesn't just focus on weight loss she wants to make sure you are completely whole, Just not your body, but your mind."
The App is Perfect for Me Since I Hate Going to Gyms
Carla Truly Motivates You to Make Lasting Lifestyle Changes
I Have More Energy, Better Sleep and Feel More Focused Throughout the Day
I Enjoy the Flexibility and Personalization of the Program
Carla Challenges Me In Ways I Simply Can Not Do On My Own
I Can't Make Excuses to Skip a Workout
Now it's Time For You To Take the Next Step Toward Reaching Your Fitness Goals
Getting fit is not about waiting for the ideal set of circumstances before you begin.  It's about learning how to gradually add in healthy habits into your REAL life!  We are not striving for daily perfection here, progress comes by taking one personalized step at a time.
Your next step is to contact me today for a free coaching consultation. 
In that session we will
Discuss your goals, frustrations and foreseeable barriers

Develop a simplified yet detailed plan that eliminates overwhelm, seeks to overcomes barriers so that you can reach your goals

Determine your next step